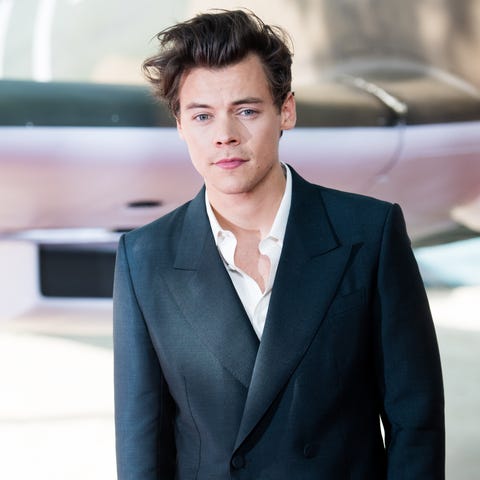 Samir HusseinGetty Images
Harry Styles just released his new single, "Lights Up."
People on Twitter think that the former One Direction member used the song to come out as bisexual.
---
Oh, hello there—Happy Harry Styles Day! After many months of restless waiting, we have finally been blessed with new music from your favorite ex–One Direction member. While you were (hopefully not) sleeping, Harry pulled a Beyoncé and surprise-dropped his new single, "Lights Up," at midnight and the whole thing was an absolute masterpiece—duh! But artsy-ness aside, fans of Harry are freaking out on Twitter because they think he used the song to officially come out as bisexual. It's a lot to process, so let's discuss!
Let me just make this very plain: People on Twitter are not always right about their assumptions! But that being said, people came to the conclusion that Harry is bisexual now because he released "Lights Up" song on National Coming Out Day. Further adding to their suspicion is the fact that Harry is dancing in the video with both men and women, and singing lyrics like "I'm not ever going back" and "Do you know who you are?"
Here's what people thought about Harry's new song:
Harry hasn't exactly made a formal announcement about his sexuality in the past, but he has previously said that he doesn't feel a need to define or put a label on his preference."No, I've never felt the need to really," he told The Sun in 2017. "No…I don't feel like it's something I've ever felt like I have to explain about myself."
Although Harry chooses to remain hush about his sexuality, he's always been a fierce supporter of the LGBTQ community. During his last tour, Harry made it a point to wave the pride, bi, trans, and the Black Lives Matter flags at his concerts—what a power move! Harry told Rolling Stone last month that he made this move to make sure everyone feels included and represented at his shows.
"I want to make people feel comfortable being whatever they want to be," he explained. "Maybe at a show you can have a moment of knowing that you're not alone. I'm aware that as a white male, I don't go through the same things as a lot of the people that come to the shows. I can't claim that I know what it's like, because I don't. So I'm not trying to say, 'I understand what it's like.' I'm just trying to make people feel included and seen."
Regardless of whether Harry is bi or not, I am absolutely beside myself with excitement for this new era of his music. Fingers crossed for another new single soon!