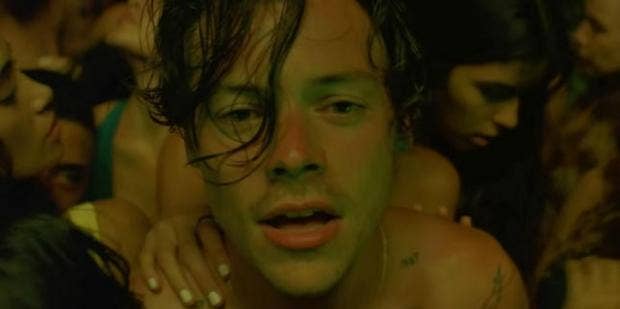 It's not the first time he's addressed his sexuality.
In the last few years, we've come to understand that sexuality isn't back and white; instead, it's a spectrum. And for bisexual individuals, in particular, they've had to work hard to show they aren't invisible. Celebrities like Jason Mraz, Brendon Urie, Rita Ora, Evan Rachel Wood, and Aubrey Plaza have come out to say they are attracted to both men and women, and are living unapologetically.
And while there have been artists throughout the last few decades that have redefined how we see sexuality (David Bowie, Iggy Pop, and Janelle Monae), one musician in particular is making a statement. Or is he?
Is Harry Styles bisexual? The former member of One Direction began his solo career in 2016. He released his first self-titled studio album in 2017, and just dropped his new single "Lights Up."
The music video features a topless Styles in a sea of sweaty women and men, interspersed between scenes of riding on a motorcycle, singing in a sequined outfit, and floating in the water in a 70s-style get-up. But it's the lyrics that have fans wondering if the song is about his sexuality:
"All the lights couldn't put out the dark
Runnin' through my heart
Lights up and they know who you are
Know who you are
Do you know who you are?
Shine, step into the light
Shine, so bright sometimes
Shine, I'm not ever going back"
On the surface, it may sound like the lyrics are describing overcoming hurdles, but fans are convinced it means something more, especially since it was released on National Coming Out Day: October 11th.
Was he really coming out as bisexual by releasing the song on this particular day? Fans on Twitter seem to think so!
Whether or not the song and video are related to Styles' sexuality, it's not the first time he's hinted that he's not a straight man.
In 2017, he told The Sun, "It's weird for me — everyone should just be who they want to be. It's tough to justify somebody having to answer to someone else about stuff like that… No, I've never felt the need to really [label my sexuality]. No. I don't feel like it's something I've ever felt like I have to explain about myself."
He's also a supporter of the LGBTQ community and during his last tour, waved multiple flags: pride, bi, trans, and Black Lives Matter. He waved a rainbow flag that said "Make America Gay Again."
And recently, in an interview with Rolling Stone, he opened up about the flags and their personal meaning to him, saying, "I want to make people feel comfortable being whatever they want to be. Maybe at a show you can have a moment of knowing that you're not alone. I'm aware that as a white male, I don't go through the same things as a lot of the people that come to the shows. I can't claim that I know what it's like because I don't. So I'm not trying to say, 'I understand what it's like.' I'm just trying to make people feel included and seen."
While Styles hasn't given a direct answer as to his sexuality, it's clear that he refuses to be labeled.
Samantha Maffucci is an editor for YourTango who focuses on writing trending news and entertainment pieces. In her free time, you can find her obsessing about cats, wine, and all things Vanderpump Rules.