California´s legal cannabis business has made huge strides in creativity since recreational cannabis became legal in late 2016. Dispensaries now sell a wide range of cannabis products. They sell bud, hashish, oils, cannabis drinks, and other products. As consumables have become more popular, businesses develop more edibles. Cannabis consumers no longer limit themselves to cannabis brownies and cannabis gummy bears. Experience with cannabis has broadened. Major celebrities such as Miley Cyrus and Chris Rock are heavily involved in cannabis. The Original Cannabis Cafe is the first restaurant in the United States where one can smoke cannabis and eat at the same time.
Celebrity Involvement
Of course, even its strategic location in West Hollywood, the Original Cannabis Cafe has celebrity involvement. How else is anything launched in Los Angeles? The four main celebrity investors are Chris Rock, Sarah Silverman, Mark Ronson, and Miley Cyrus. Of course, such celebrity investment has attracted other celebrities as clientele. Among them are Woody Harrelson, Paris Jackson, and Chelsea Handler. The parent company of the Original Cannabis Cafe. The parent company of the restaurant is the fastest-growing cannabis brand in California. So it´s rather obvious why celebrities would associate their name with this.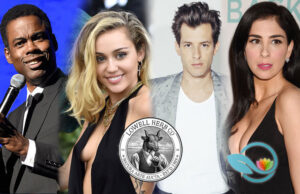 The Original Cannabis Cafe
As Lowell Cannabis Cafe, the Original Cannabis Cafe opened up in West Hollywood in October 2019. While it offers cannabis and cannabis products for use while eating, it does not yet offer cannabis-infused menu items. The Original Cannabis Cafe is awaiting FDA approval before they can infuse food served on-premise with cannabis. One must be 21 and over to be served. There´s valet parking, and of course, many customers use Uber to come and go. To get there by public transportation, take the Red Line to Vermont and Santa Monica Blvd. Get off, and take the bus westward to La Brea and Santa Monica Blvd. It´s hard for many people to believe, but Los Angeles does have public transportation. So if one doesn´t want to use an Uber, take the train and bus. It should be noted the trains do not run all night, so please check the schedules.
The menu is basically typical light American food blended with Mexican food. It has a combination of salads, rice and beans, burgers, french fries, sweet potato fries, corn dogs, chicken, and burgers. They also have desserts. The Original Cannabis Cafe has standards sweets such as pastries, ice cream, and chocolates. To drink there are various juices, teas, and coffee and sodas. The cafe has a wide variety of cannabis products. There´s a huge range of cannabis to smoke. Prices vary according to quality and the strain of cannabis. While there are no food menu items containing cannabis, there are a number of cannabis-infused drinks. There are also cannabis-infused candies such as gummies.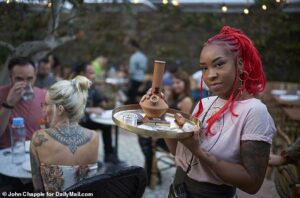 Original Cannabis Cafe Reviews and Popularity
The restaurant has a number of reviews on Yelp. The overall rating is 3 and a half stars. Which is pretty good. Customers overall liked the menu, the staff, and the cannabis products. Some complained about how tight it was at times to get a reservation.
The Original Cannabis Cafe is quite popular. One will need to make reservations, particularly on weekends. The cafe hosts private events as well. Reservations can be made as much as 30 days in advance.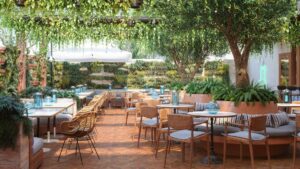 West Hollywood Also Known as WeHo
The Original Cannabis Cafe is the first of eight licensees to open up in West Hollywood. The other licenses are licensed to sell cannabis in their restaurants as well. West Hollywood is an excellent location to have cannabis restaurants. It´s a well known gay city. 40 percent of residents identify at LGBTQ. Therefore it gets a number of LGBTQ tourists due to the gay bars and clubs on Santa Monica Boulevard. It is next door to Beverly Hills.
West Hollywood and Beverly Hills are suburbs of Los Angeles, the second-largest city by population in America and the largest city by population in California. The global public associates Los Angeles with the film industry, and West Hollywood is no different. A large number of entertainment companies have offices in Beverly Hills, and some have offices in West Hollywood. A number of people in West Hollywood work in the entertainment industry. Angelenos affectionately call the city WeHo. Entertainers also come to West Hollywood on business. It´s certainly a good idea for the Original Cannabis Cafe to hold private events, considering the location.
The West Hollywood location meant that the Original Cannabis Cafe had no problems getting press. Even with it was more a less proposal and a license, the press was still excited about it. A cannabis restaurant in West Hollywood. California is the largest state by population, and our major trends in tech, film, and overall pop culture tend to come out of California. Innovation and creativity are huge in California. It´s only natural that the first cannabis restaurant opens in West Hollywood.
Will Colorado Copy
While other cannabis restaurants will likely soon open up in California, California will not be the only state to have this kind of fun available. As of January 1, 2020 cannabis lounges are legal in Colorado. While Colorado certainly has fallen behind California, the Original Cannabis Cafe will likely influence the development and opening of cannabis lounges in Colorado.

166